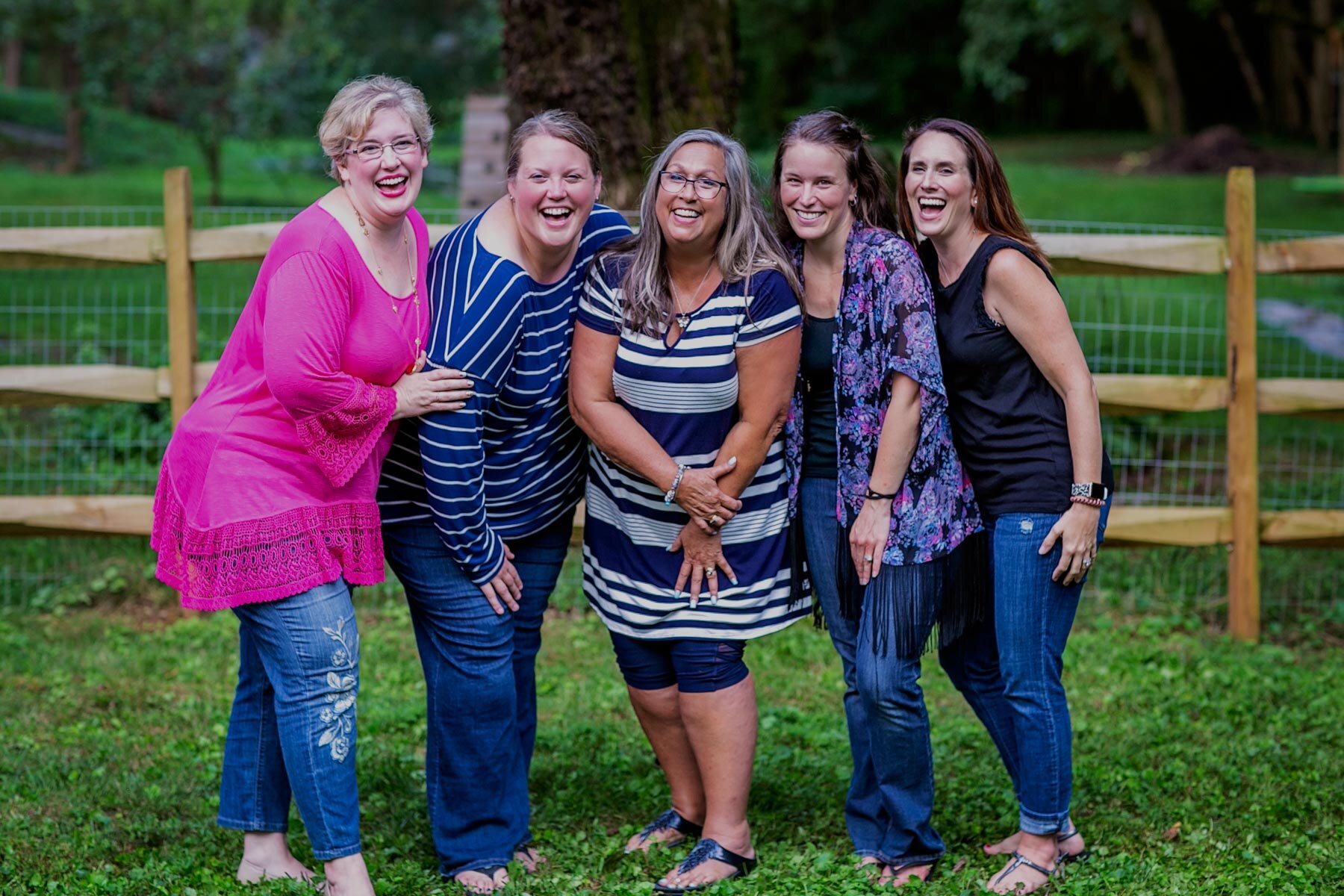 REVELATION & COMMUNITY:
Discovering the Real God and our True Selves
Giving Thanks for the Faithfulness of God in 2020
2020 has been one of the most difficult years many of us can remember. In spite of the difficulties, we have seen the Lord move in incredible ways through Greater Things. We are reminded of how Psalms 55:22 tells us to cast our cares upon the Lord and He will sustain us – He will never let us fall or be shaken. Our ministry has continued to grow in the midst of sickness, tragedy and huge division in our country. Many of us have found a new, stronger identity as we have allowed God to move and speak more deeply into our hearts.
We have shown up for each other and God has shown incredible kindness and faithfulness to our ministry body.
Several of our members have contributed their testimonies and passion for this ministry. Please read these stories in the following section of "Greater Things Testimonies" or learn more about how you can invest and get connected in our ministry in the link below.
Greater Things Testimonies
Greater Things is a ministry that has touched hundreds of lives since it's beginning in 2015, and through the ministries led by Chuck and Jana Spicka since 2007. Read these brief testimonies of people whose lives have been impacted by Greater Things – be sure to click on "Read More" for the entire quote.
Greater Things Financials
The programs, ministries, and meeting spaces used by Greater Things depends on the generosity and investment of its body. Please consider partnering with our ministry for 2021.
We are a 501(c)(3) non-profit and so all gifts are tax deductible.
Greater Things at a Glance in 2020

200 People Served
Through multiple retreats, classes, events, our church community, spiritual growth groups and more, Greater Things is thankful to have served over 200 people in 2020.
Three Ministry Buildings
Greater things operates a meeting and event space and an administrative building in Knoxville, as well as a private property used for retreats and ministry purposes.
3 Community Classes
Greater Things was pleased to host powerful and dynamic classes on spiritual growth, racial injustice and healing, and financial management and stewardship in 2020.
8 Growth Groups
Without support and community, many people's spiritual journeys don't progress. Greater Things hosted multiple spiritual growth groups for all ages and stages of life in 2020.
Weekly Church Service
New Wine Church has been meeting since 2017 as a ministry of Greater Things, and focuses on being a place that loves God and loves each other in increasing measure.
Kingdom Access School
We launched this powerful school in 2020 as a two year intensive course designed to bridge the gap between the realities of today and the spiritual abundance that God offers.
Two Retreats / Events
We offered a Women's teaching event in March with prophetic words about taking down giants, and a four day beach retreat in September that led to great revelation and healing.
Podcast Ministry
Ministry leader Jana Spicka studied and developed content for 25 different podcast teachings with fresh revelation from God that created much impact and over 5300 downloads in 2020.
WE CANT DO IT WITHOUT YOU!
Support the Greater Things
Vision for 2021
Featuring Ministries at Greater Things
What's next for Greater Things in 2021?
Get Connected at Greater Things!
Same Powerful Programs as 2020
We will have many of the same powerful classes, multi-generational groups available to plug into for men and women, married folks, singles, moms, professionals, and young families. You can find us on Sundays at New Wine Church, sign up for Kingdom Access School in the Fall, and stay tuned for NEW classes taught from members of our ministry who share their gifts and expertise.

Monthly Renewal Class
In 2021 we will begin a new monthly gathering for women to empower other women. We will be joining other leaders to strengthen and challenge women from different perspectives and help cultivate courage, clarity and identity in our community.

Spring Women's Event
Every Spring we gather to catch our breath, to fill our cups, to hear a fresh word from the Lord. And the worship…how we linger in His presence. We are always eager for what God wants to give His daughters, and this event always lifts up our community.
Summer Healing Event
We have long had a dream of inviting women from all churches, all backgrounds, all races together to listen to each others stories, to worship together, to experience true healing. God has blessed women with unique abilities for building relationships and nurturing each other. We are working together as a community to apply this gifting toward racial healing in Knoxville.

Fall Beach Retreat
Yes and Amen Beach Retreat. It NEVER gets old. The ocean, rooms full of hungry women and the Presence of God. We form deep relationships, have huge God encounters, and He blows us away year after year. Stay tuned for more info and sign up SOON to hold your spot for 2021.

Fresh Fruits
Two new books will be released in 2021, Tsunami of Love, and Recalibrating Rest. These two offerings are capturing God's revelations for our instruction and encouragement to live better, rest more deeply, and live with more freedom.
I joined [Men's Group] with reluctance because I don't do vulnerability well at all, it used to make me uncomfortable. Fast forward a year and I crave the vulnerability and real relationships it forms when we bear each other's burdens and build one another up, taking turns reminding each other who you are and how God truly sees you. It's been amazing.
– Peter Simeone
We are pleased to welcome Crystal Freeman to the team at Greater Things! Crystal served for five years at the Baptist Collegiate Ministry at the University of Tennessee. She joined Greater Things in September of this year as the Director of Communications.
One of Crystal's favorite qualities of Greater Things is that you have the freedom to have a messy life and still passionately pursue Jesus, and that is what drew her to the ministry. She left a job that she loved because she believes in the mission of Greater Things. She believes in the radical affection of the Father and she deeply want others to experience His Spirit. Her favorite part of working for Greater Things is the people she gets to work with on a daily basis, and appreciates how the community is real and genuine and willing to talk about hard things. Her passion is hearing about others faith journey and encouraging them for more — more of the Spirit, more breakthrough, more transformation.
Jana loves having Crystal on the team, as she is passionate about Christ, deeply invested in people, and has a strong technical skill set that she uses in many capacities for the ministry. Crystal brings a strong sense of connection, spiritual maturity and stability with her – but is also a lot of fun and brings so much joy to her job and to the community of Greater Things. Welcome Crystal!!